The ONLY ACT / SAT Prep Sponsored by the


National Federation of High Schools
"We sponsor this program for all our schools nationwide because doing well on the SAT/ACT exam opens opportunities."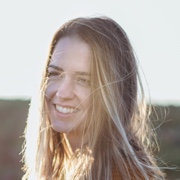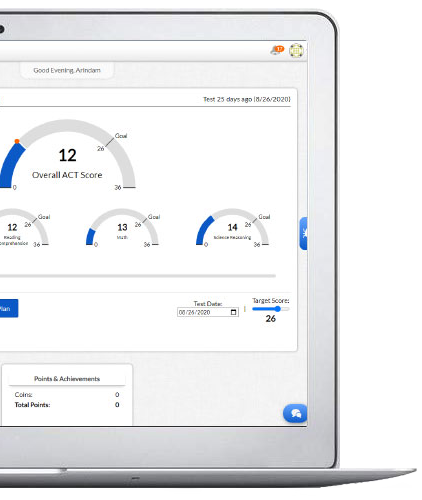 Hello, future of learning

It's time to ditch the ACT/SAT overload and embrace something new. Join 250,000+ students studying with PowerPrep™ and get into your dream college.
1000's of multimedia lessons
Thorough question-and-answer breakdowns
Individualized study plan
Track progress with PushReports™
RealTime Score Projection™
Live TeacherChat™ – instant help from real teachers
Learning YOUR way starts here:
---
Take the diagnostic test.
PowerPrep starts your study experience with a REAL ACT or SAT test.
This diagnostic exam is your launch pad to ACT & SAT mastery!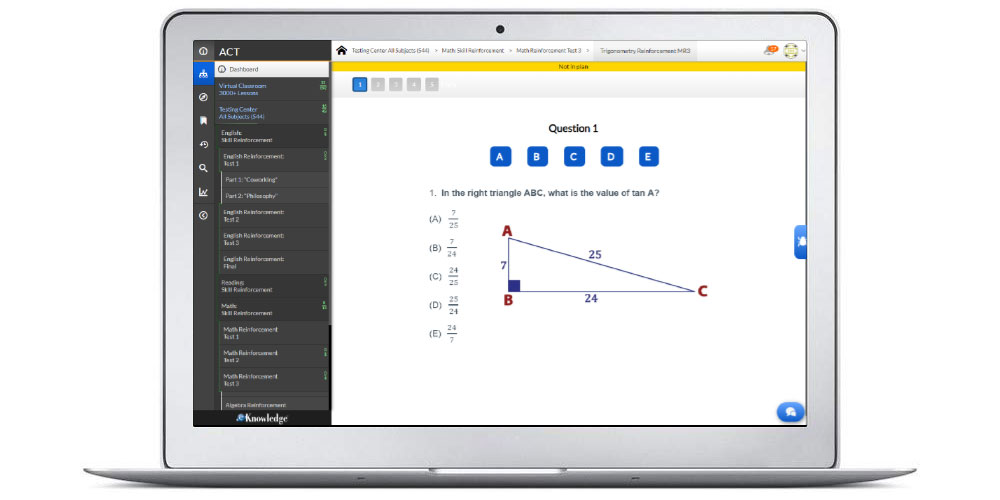 ---
Review your report.
After the preliminary exam, your diagnostic report tells you which test areas need the greatest improvement, down to the section, the subject, and the problem.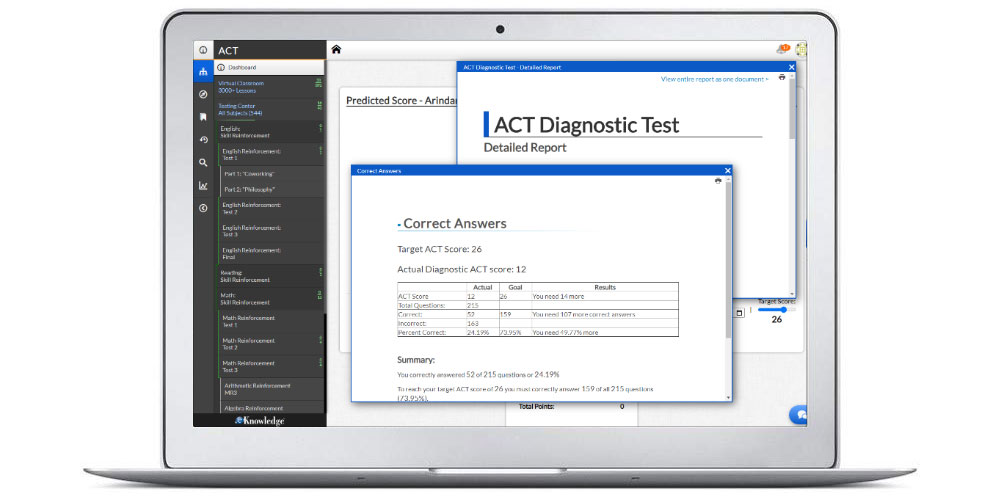 ---
Begin your personal study plan.
PowerPrep creates a study plan JUST for you based on your personal strengths, weaknesses, and goals! Your custom plan prioritizes the topics and lessons you need most to reach your target score in a fraction of the time. No if's or but's about it.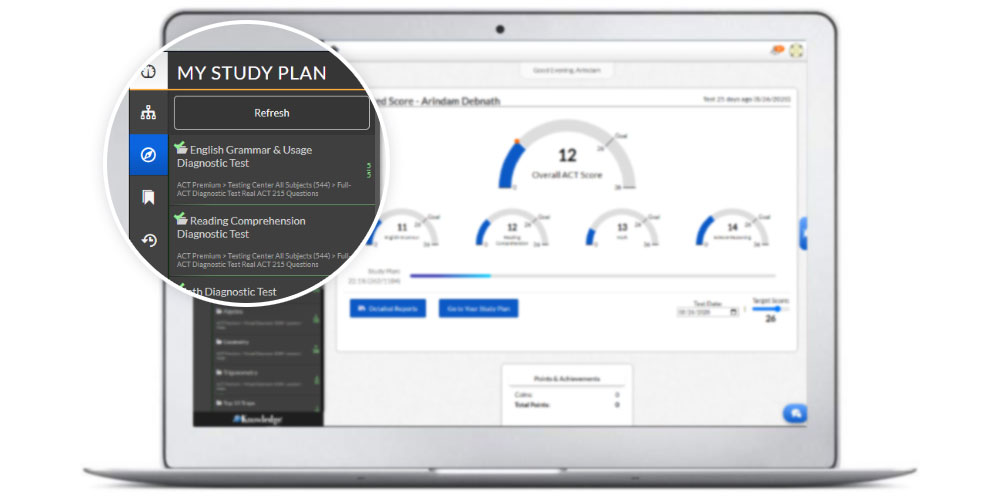 Can you see the future?
We can.
Introducing RealTime Score Projection™.
Always know exactly what score you'd earn if you were to take the test today, tomorrow, or a month from now. Know exactly when you're ready and what your results will be—pricey exam retakes are a thing of the past!
And we're the only program in the world that offers it.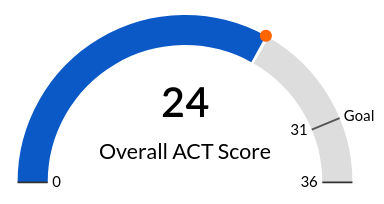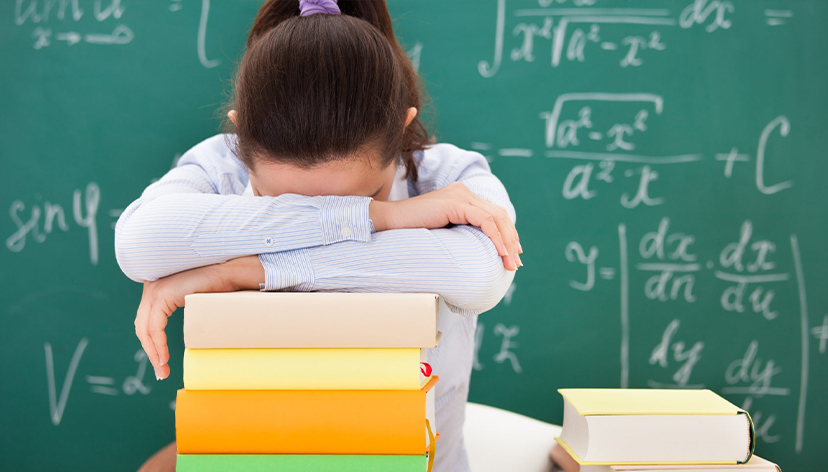 Not a traditional learner?
Not a problem.
Whether you learn best through video, text, graphics, competition, or collaboration, eKnowledge has thought of you. Lessons accommodate multiple styles of learning and thinking, with hundreds of videos, visuals, practice questions, and text. Whoever the learner, whatever the style, you'll prepare with confidence.
on-demand multimedia/video lessons
page integrated multimedia eBook
detailed practice and drill questions
progress quizzes with detailed answer analysis
We hand-select highly-qualified teachers.  All of our teachers hold advanced degrees, know the ACT and SAT tests, and are experienced in online instruction.
We can answer any questions about the SAT, ACT, or PowerPrep program
We guide students' study to use time efficiently
We encourage and cheerlead
Don't waste time being "stuck!"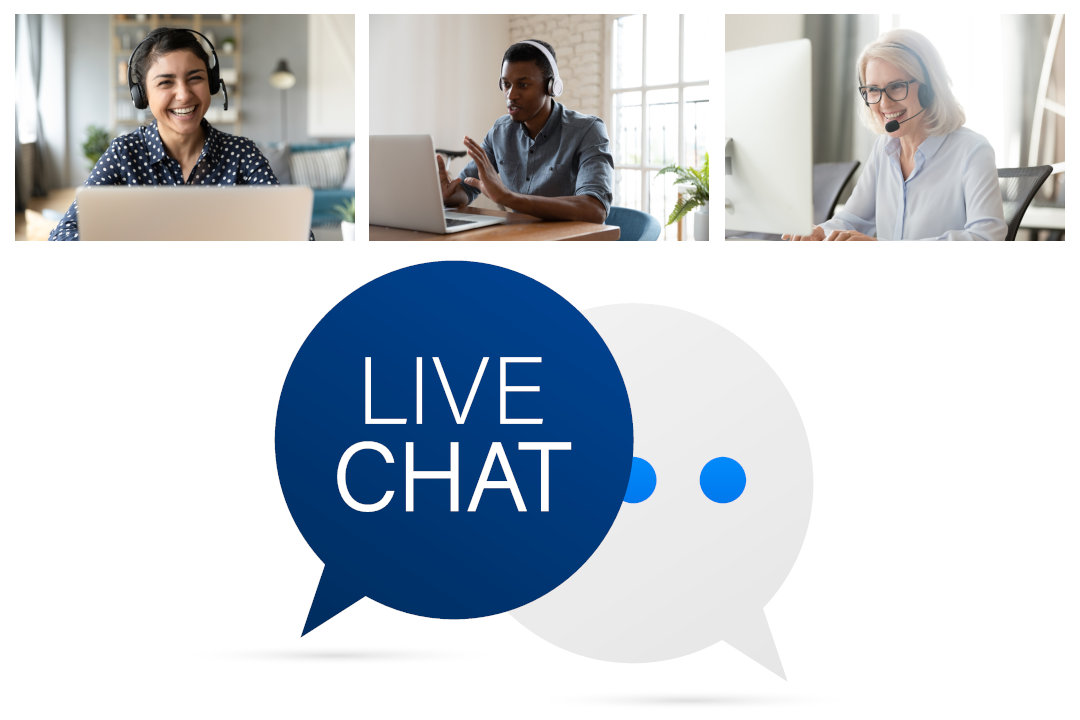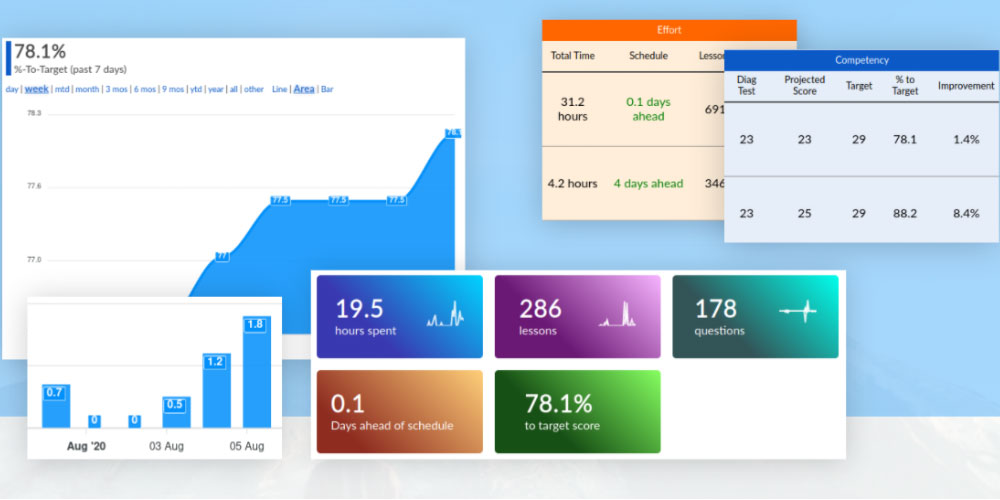 Track your progress all along the way.
Click, check, done! Instant satisfaction. Check off every lesson, question, and quiz you complete with the click of a button so you can see exactly what you've accomplished to-date. Parents and teachers: get involved and cheer them on with detailed progress reports sent straight to your phone or email.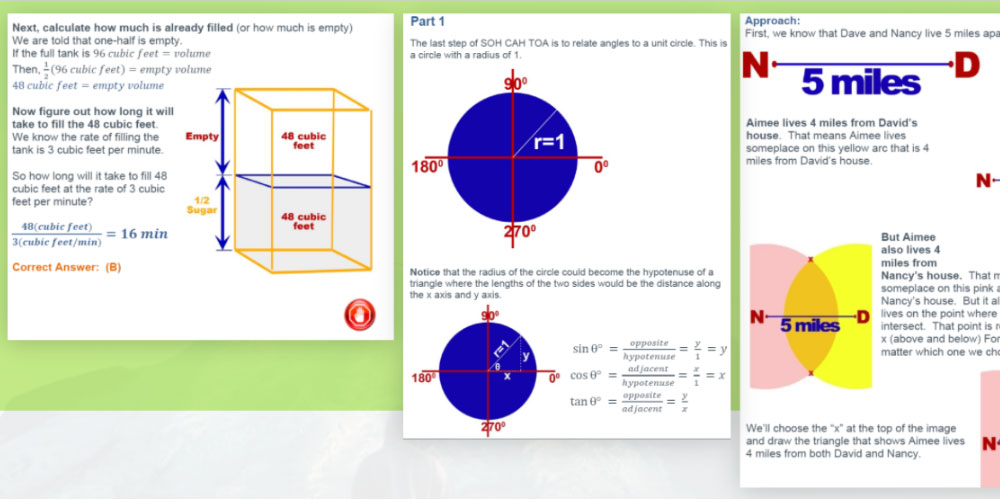 REAL exam questions and detailed answer analysis.
Say goodbye to knock-off questions. Learn from REAL, recent ACT & SAT exams and soak in exhaustive question-and-answer analyses you can't find anywhere else.
Goodbye, test anxiety.
Don't let test anxiety come between you and your future. PowerPrep gives you the confidence of knowing exactly what to expect and exactly how to prepare! Learn test-taking strategies and time-management skills specific to the ACT & SAT. Discover multiple approaches to difficult questions, leave stress behind, and test confidently!
Student spotlight
We are very happy for Caity. She was offered a full-ride softball scholarship to Stanford. But she needed to improve her test scores to accept the scholarship.
PowerPrep helps parents, too.
Independent Study
Parents, you don't need to remember high school subjects to help them score higher. We teach your student everything they need to reach their target score.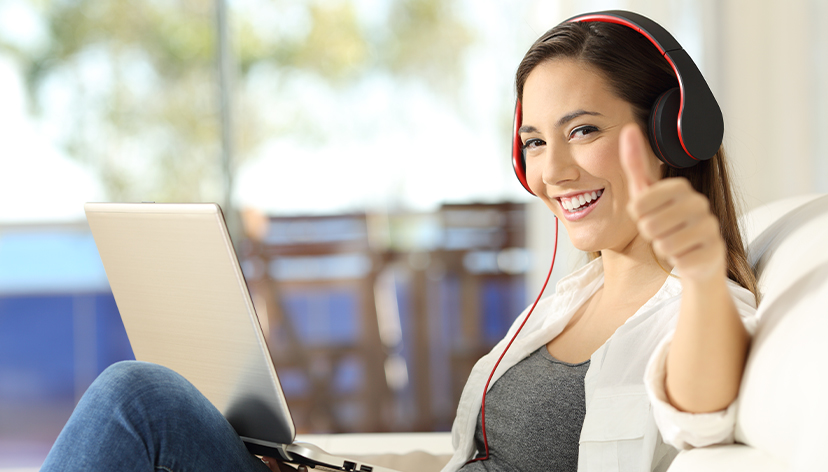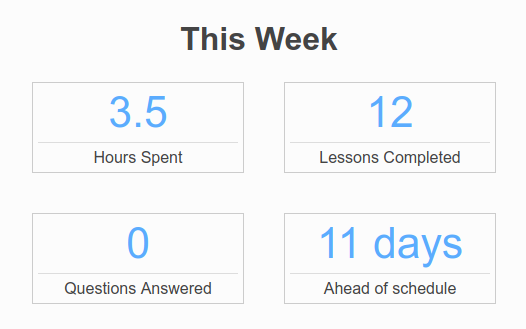 We report.
You cheerlead.
PushReports™ deliver your student's progress straight to your phone or computer, so you can cheer them on. View their current projected score, their daily study time, even links to the specific lessons and questions they've worked on, all with a tap or click.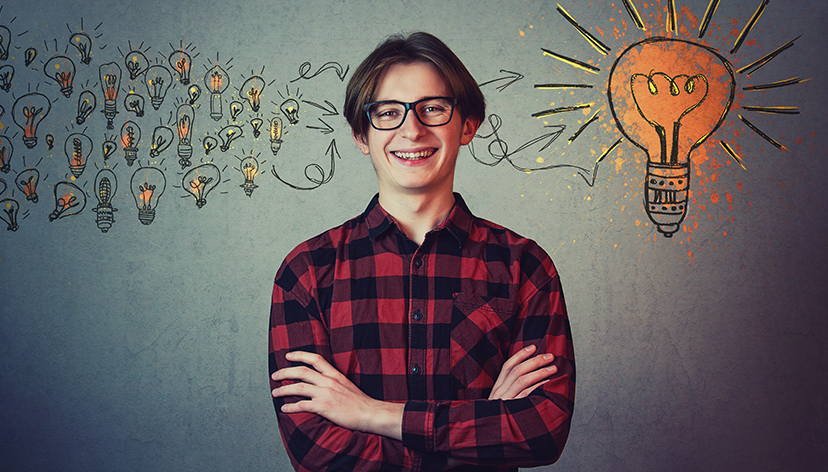 "I don't know how to help."
        —The six words you'll never say again.
… At least, until they get their acceptance letter.
We've done the hard part so you can choose your part. We teach your student everything they need to reach their target score. We diagnose your student's exact strengths and weaknesses and track their progress, making it easier for you to get involved in their learning, implement rewards, give high-fives, or sit down and review with them. Whatever level of involvement you choose, we help you turn this stressful time into quality time.
 Jim Koch says:
"My granddaughter scored 1580 on both PSAT and SAT. She is a National Merit Semifinalist this year in Massachusetts. She used your program exclusively. Thanks."
Michael Maher says:
"We have renewed the PowerPrep five times since 2007. Thank you from this Veteran of 27 years, 9 children, helping my children qualify for bright futures in Florida.  They all got four years of college. God Bless."
 Suzanne Senechal says:
"I purchased this last year for my freshman daughter. She then took the SSAT and the PSAT10 and has done well on both. In fact, she has been given an academic scholarship to a prep school for her Junior and Senior years. We believe the program gave her an advantage over her peers. I have renewed the SAT study and purchased the ACT as well. I know this will prepare her for college. Thank you for the discount. It is greatly appreciated."
 
Kristin Sablan says:
"Thank you so very much for the opportunity to use this program with both of our boys. It would have been unaffordable without your sponsorship. My eldest raised his ACT by 5 points after using this product. I've just renewed for another year for my youngest to use."
 Roosevelt Boyland says:
"Thank you soo much for this program. I'm a retired Air Force officer and have used this program to help my two sons prepare for their college testing. The went on to graduate from M.I.T. and Harvard and one of them starts medical school this fall. I bought this program to help my daughter pursue her academic goals and I know that she will have similar success. I thank you all for helping to make a real difference in the lives of myself and my family. God Bless."
 Inge Andre says:
"LOVE THIS PRODUCT!!! It has greatly helped my other 2 children!"
 Christine Reed says:
"I just want to say thank you to all those who participate in this program. It is a real blessing to have this help in preparing my children for further education. We were able to use your program for three of our older children. Again, thank you."
 Cynthia Doil says:
"We have renewed this program five times since 2011. Thank you very much for your support. It is GREATLY appreciated!!!"
Wattis Gentry says:
"A wonderful tool for the determined student! We have used this program since 2006 and have renewed 7 times!!!"
Christine Edwards says:
"I can't thank you enough for helping my daughter and I with this program. It means the world to us! I used it personally when i separated from the military and now my daughter is using it."
 Tawni El-Talabani says:
"We have renewed 6 times so all our children could have the program. Thank you for your support and caring for our children. It is appreciated so very much!"
 Debra says:
"My son Joshua took the ACT without studying and he made a 21. I purchased eknowledge and he studied about an hour a day. After using eknowledge to study he made a 26!! He's going to take it once more in February to see if he can get an even better score. I have told so many people about this program and I've given it to the guidance counselors at various schools. Thanx for this program!!!"
 Manny Rodriguez says:
"The program was vital to increasing my daughter's performance on the ACT and SAT. I thank you for the opportunity to give this to my son now. As a military veteran, the assistance you have provided is appreciated more than I can express here. We've been using the program since 2012. Thank you!"
Tre Comeaux says:
"Thank you so much. I used the ACT program and made a 24 my first time. I had graduated high school years prior to taking the exam and math was never a good subject for me, but I took my time on the program and succeeded."
Doreen Lund says:
"Thank you so much!! Was looking into a classroom setting that was going to cost almost $800, plus the timing was off. This will allow my son to do the work on his timetable and without the financial burden. We GREATLY appreciate this!!!"
William Steinborn says:
"I would like to thank them all. My grandson has lost both of his parents. His dad was a 27 year Green Beret who died on active duty at the rank of Sgt Major. His mom was also in the military. We all are very grateful to all the sponsors of this program."
Marlena Walker says:
"Thanks! You're awesome! Your contributions designed to change lives and prepare future leaders of this great nation is definitely appreciated!"
Roosevelt LaFontant says:
"No words can express my gratitude. Keep the great work!"
Kimberly Tresch says:
"You're freakin awesome!!!"
Sharon L Evans says:
"I originally purchased this program to help my grandson improve his ACT score. He did, and thru very much hard work he is now pursuing his Master's degree in Prosthetics. I am purchasing this program again to help my youngest grandson improve his ACT score. Thank You for your contribution to the youth of today."
Barry Schnaitman says:
"My oldest daughter was able to improve her score and is now attending a high cost private college with half the tuition being covered by scholarships. We are back ordering again to prepare our other teenagers much earlier than before. Thanks!"
Eva Bowers says:
"Hurricane Katrina destroyed my oldest son's high school forcing him to attend 3 different schools his senior year. We were worried about how all this change would affect his ACT score. After using this program, his score increased and he received a scholarship. I am now ordering the program for my other son. Thanks you so much NFL players and sponsors for making this program available."
James Schumacher says:
"Our Family certainly thanks you all for developing and supporting this program. Last year, we got the program for our daughter and now she is going to college on a full ride scholarship. Thank-you for concern and help."
Grace Mischenko says:
"Thank you!! My oldest got a full-tuition waiver scholarship due to his score! Now, my second is getting ready to take his tests!"
Andrea Johnson-Harvey says:
"Great product. My son has a reading disability and needed to raise his SAT scores in order to gain NCAA eligibility. Your program helped him do that, and he is now playing lacrosse in college. Thank you"
Lisa McCann says:
"Thank you for providing this opportunity to students. Though my son is only a freshman, this program has already helped my son score better on tests and has increased his confidence in test taking. That in itself is a great advantage to him."
Christina Griffis says:
"As a former homeschooling family, two of our sons utilized Power Prep for the ACT and were successful in raising their scores. Now, as a guidance counselor at a private school, I am happy to relate that experience to the students! Because of my family's positive results with eKnowledge, I have insured that the DVD has been available at our school for the past two years. Thank you for a software package that has been proven to help students increase their test scores! Well done! :)"
Kimberley Bates says:
"Thank you all, for the opportunity you have afforded our children throughout the last 5 years. (with your help) Our 2 eldest have gone on to Wellesley College and Sweet Briar college, with full academic scholarships. Our youngest is beginning high school in the fall. We know this program will give her a head start and help her feel comfortable taking the SAT and ACT. Thank you for your thoughtfulness and generosity."
The Official e-Learning Platform of the


National Federation of High Schools
"We sponsor this program for all our schools nationwide because doing well on the SAT/ACT exam opens opportunities."
Student visibility.
Introducing Iris™—PowerPrep's online classroom management. Iris™ gives you insight you'll wish you had in every classroom setting. Track a student's effort and competency, so you can intervene and remediate for the right students, at the right time.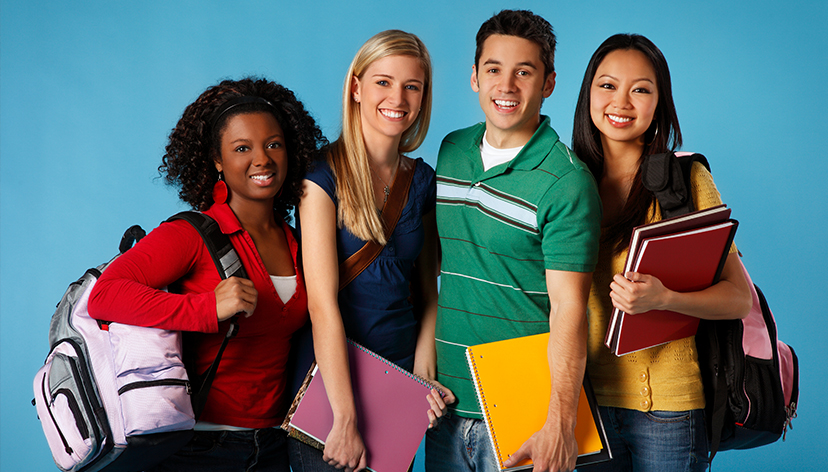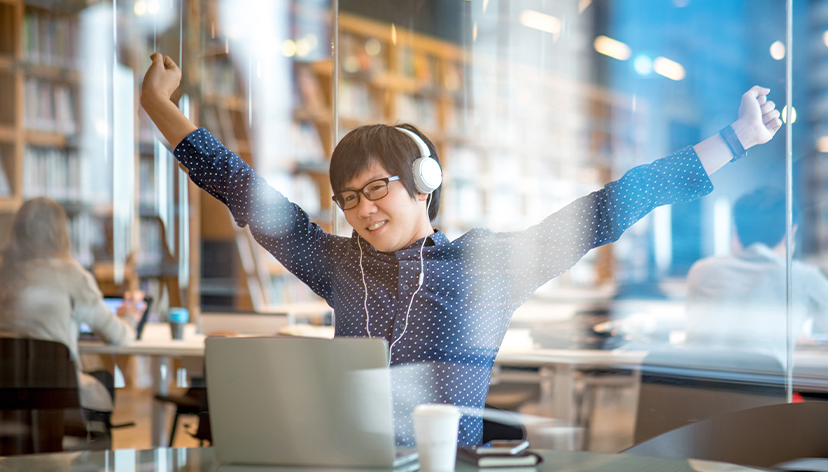 See the big picture.
Mind the details.
Keep every student on-schedule and on-target. Track your entire class from one comprehensive dashboard, and individual student details are only one click away. See everything—including time spent, lessons completed, questions answered, and projected scores—and spot trends before they become problems.
David Hines M.Ed.
Executive Director, Arizona Interscholastic Association (AIA)
"The AIA has supported the NFHS/eKnowledge SAT/ACT Prep Project for many years. It provides a tremendous benefit to all students but especially to underserved families. We highly recommend our AD's and principals convey this information directly to our parents and student athletes."
Robert Johnson
Associate Executive Director, Vermont Principals' Association (VPA)
"We are proud to support the NFHS/eKnoweldge SAT/ACT Prep Project and the many Vermont families and students that will benefit. We encourage our principals and athletic directors to spread the word about this resource."
Tom Keating
Executive Director, Iowa High School Athletic Association
"For many years, the NFHS and eKnowledge has supported hundreds of Iowa families and students with heavily discounted top-rated SAT/ACT online prep resources. The IHSAA is extremely proud to continue our partnership with eKnowledge for the benefit of Iowa families."
Lance Taylor
Executive Director, Arkansas Activities Association (AAA)
"For more than a decade students in Arkansas have benefited from the eKnowledge Donation Project, which has assisted our students by waiving the SAT and ACT Prep Course price. We are indeed grateful for eKnowledge for helping to prepare our students. Financially, this program is designed to aid all high school students who are seriously considering the next educational step – college. We totally support it."
… and community leaders agree.
"I realize the critical importance of a good education; it is an honor to lend my support to the eKnowledge Project to help students with their college preparations."
"NCFCA is glad to join with the eKnowledge SAT/ACT Prep Program to bring this tremendous tool to our students. I hope every one of our students is able to take advantage of this opportunity."
"Every day through the National Association of American Veterans, Inc., an average of one hundred plus veterans contact NAAV for support. We are thankful for the educational resources eKnowledge provides Veterans and their families."
Get the score you need to attend YOUR college of choice
Battle-tested for 16+ years
Million dollars in scholarships
Used in every state and 40+ countries
Simple and Flexible Pricing
Choose a plan that fits your needs
ACT Standard
Math Super Supplement

Hundreds of hours of student classwork

100+ hours of detailed video explanation

650+ multimedia/video lessons

50+ automatically graded progress quizzes with detailed answers

1000+ practice questions with answers

800+ page multimedia eBook
ACT Super Course
Everything in the Standard Program PLUS:
Live Teacher Chat in program – 9am-9pm PST 7 days / week.  Instantly reach a highly-qualified teacher.
Progress Reports: track progress with daily or weekly updates on your student's study time, readiness, and predicted score.

Vocabulary class with video instruction

ACT-specific dictionary with 800 commonly-tested words

571 bite sized FasTrak Tips (flashcards)
SAT Standard
Math Super Supplement

Hundreds of hours of student classwork

100+ hours of detailed video explanation

650+ multimedia/video lessons

50+ automatically graded progress quizzes with detailed answers

1000+ practice questions with answers

800+ page multimedia eBook
SAT Super Course
Everything in the Standard Program PLUS:
Live Teacher Chat in program – 9am-9pm PST 7 days / week.  Instantly reach a highly-qualified teacher.
Progress Reports: track progress with daily or weekly updates on your student's study time, readiness, and predicted score.

Vocabulary class with video instruction

SAT-specific dictionary with 800 commonly-tested words

571 bite sized FasTrak Tips (flashcards)
Special pricing available for public & private schools, school districts, non-profit organizations, financial need, and bulk orders.
Call (951) 256-4076 for details.


Your Satisfaction is 100% Guaranteed
Use the program for up to 14 days after purchase. If for any reason you are not 100% satisfied, we will refund your purchase, no questions asked.
We know the tests
and what they want.
We've analyzed YEARS of ACT & SAT exams and know every kind of question and issue a student will face on exam day.
Take a look at what PowerPrep includes:
What's on the test:
The ACT tests 18 different math skills across arithmetic, algebra, geometry, and trigonometry, all wrapped into a 60-question test.
How we prepare you:
PowerPrep gives you the most comprehensive math prep experience you can find anywhere, with multiple REAL ACT math tests, nearly 300 video lessons, over 500 pages of text and graphics, and an additional 500+ questions with exhaustive question-and-answer analyses.
You'll learn every math skill tested on the exam:
Probability, Percentages, Statistics
Mean/Median/Mode/Range
Fractions/Ratios/Decimals
Substitution of Variables/Manipulating Variables, Basic Algebra
Functions, Graphing
Geometric Sequence
Area, Perimeter, Volume
Vertical Supplemental Angles
Scientific Notation
Powers, Exponents
Quadratics
Special Right Triangles, Pythagorean
Complex and Imaginary Numbers
Trigonometry, SOH-CAH-TOA, Sine Waves
Mid-point
Inequalities, Slope, x/y Intercepts, Definition of a Line
Coordinate Plane
Matrix
We put math into context.
If you've ever asked "Why?" or "How does this make sense?", you're in the right place.
Math is often presented as out-of-context rules to be memorized, but PowerPrep provides context so you'll REALLY understand hard-to-grasp concepts. And we teach alternative methods to help you correctly answer questions, even when you don't know the math!
What's on the test:
The ACT English section consists of five prose passages, each with multiple-choice questions that test your understanding of grammar, punctuation, and logical flow.
How we prepare you:
PowerPrep includes REAL exam passages and over 200 REAL exam questions from years past, complete with detailed explanations. You also get our 200-page "Big Book of Grammar", dozens of video lessons, and over 2,000 sample questions (and explanations) covering every grammar topic.
You'll learn every grammar skill tested on the exam:
Commas, dashes, semi-colons,
colons, and other punctuation
Subject-verb agreement
Subject-pronoun agreement
Verb tense
Run-on sentences
Misplaced phrases and clauses
Shifts in construction
Parallelism
Sentence structure
Rhetorical skills
Logical progression
Vocabulary and diction
Usage (300+ usage issues)
And so much more
What's on the test:
The ACT Reading Comprehension section consists of 4 reading passages, each followed by 10 multiple-choice questions that test your logical reasoning skills and your ability to find and understand stated information.
How we prepare you:
PowerPrep includes hundreds of REAL exam questions and passages from recent years, complete with detailed passage deconstruction.
You'll learn every reading skill tested on the exam:
Main Idea

Purpose

Interpretation

Summary

Explicit

Word meaning interference techniques

Compare & Contrast reaction tone

Extend reasoning beyond the stated

SARR (Simplify, Analyze, Reduce, and Restate)

POE (Process of Elimination)

PORO (Pre-Read, Outline, Read, and Outline)

Passage, paragraph, sentence, and word analysis

Question stems deconstruction

Vocabulary and analytical reasoning
Science Reasoning (ACT only)
What's on the test:
The ACT Science Reasoning section consists of 7 "science" passages, each followed by 5-7 questions within the subjects of biology, chemistry, physics, and earth/space science.
The Good News: This portion of the exam focuses more on your ability to comprehend and analyze "sciency" data provided in the passages than on your knowledge of scientific concepts.
How we prepare you:
PowerPrep includes hundreds of REAL Science Reasoning questions and passages, complete with detailed video and text explanations of each passage, question, and answer.
You'll learn every reasoning skill on the test:
The three passage types:
data representation, research summaries,
and conflicting viewpoints

Finding the stated data WITHIN the passage

Extrapolating unstated assumptions and conclusions.

Interpretation 

Evaluation 

Reasoning

Problem Solving
What's on the test:
The optional essay portion of the ACT gives you 40 minutes to write an essay on a provided writing prompt. Your essay is graded on your ability to state your position, maintain focus, use reasoning and supporting ideas, organize your thoughts, and use clear and effective language.
How we prepare you:
PowerPrep comes with practice prompts, model essays, responses, and analyses based on the ACT rubrics.
"Argument" and "Issue" essay types

Test-day methodology

Keys for an excellent, average, and poor response

Quality development

Essential elements of an effective analytical essay

Strong thesis statements

Interesting opening paragraphs

Clear supporting paragraphs

Logical conclusions

Useful transitional statements

Argument absorption and analysis

Recognition of key points

Proof arrangement

Counter-argument analysis

Assertive language

Logic and grammar evaluation

The ACT essay checklist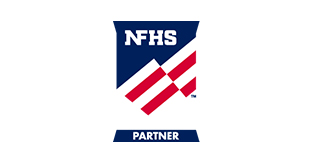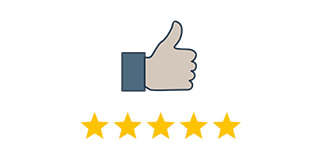 46,000+ 5-star reviews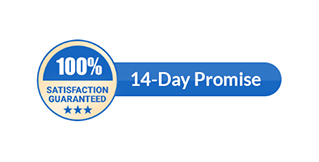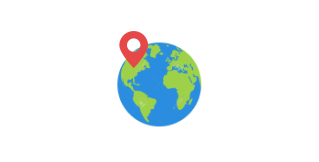 Used in all 50 states & 40+ countries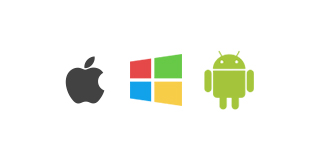 Supports all platforms and devices: Mac, Windows, Android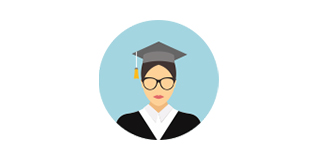 All instructors have advanced degrees (Masters and PhD)